Chips and Drones: How Much of a Threat Do They Really Pose To Us?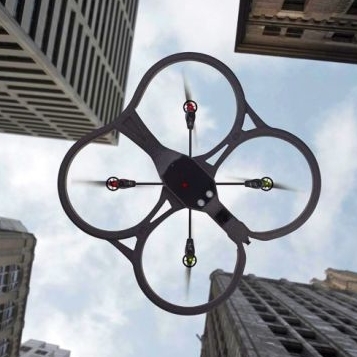 06/03/2015
         The 666 Surveillance System
Revelation 13:16-18 And he causeth all, both small and great, rich and poor, free and bond, to receive a mark in their right hand, or in their foreheads: And that no man might buy or sell, save he that had the mark, or the name of the beast, or the number of his name. Here is wisdom. Let him that hath understanding count the number of the beast: for it is the number of a man; and his number is Six hundred threescore and six (666).
Introduction (Please read this if it is your first time with this section. It continues to a full teaching article.)

There is not a more spine-chilling chapter in the entire Bible than Revelation chapter 13. This chapter describes the rise to power of a demoniacally inspired world dictator, similar in nature to Adolph Hitler. He is called "the Beast", but better known as the Anti-Christ. He uses a world financial system to control the people, as no one can buy or sell unless they are linked by a mark with the number 666 to this system. Thus this mark in the body is known as the "Mark of the Beast." (Continued see: The 666 Surveillance System)
Although the Bible limits the "Mark" to economics, the current rapid advancement of technology shows that it is going beyond economics to a total world-wide surveillance system; thus, the "666 Surveillance System." The Bible states that once a person receives the 666 Mark, he is locked into it and cannot escape. This person is eternally doomed. I believe that part of this system is mind-control. Once a person joins, the mind is seared and cannot escape; thus, the perfect "man/mouse trap".
This blog keeps the reader on the cutting edge technology creating the conditions for fulfilling the "666 Surveillance System". I have identified certain technologies that are needed to bring this system to pass. These technological advancements are reported under headings, so the reader is kept on the cutting edge of developments and can see where it is all heading. These headings include: Cashless Society, The Mind, E-Tattoos/Mark of the Beast, Total Surveillance, and High Technology.
This blog is the complement to the "Image of the Beast" which focuses on man's quest to transform creation, and to become "as gods" by "directing human evolution" using transhumanism.
Remember, that this system is in place immediately prior to the Second Coming of Jesus Christ. It really does appear that His coming is not that far off. Are you ready to meet Him?
Commentary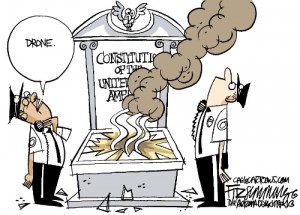 Both chips and drones already are here, but they're about to make a huge leap forward in numbers and uses. A year ago Amazon announced plans to develop a "drone delivery service" for their products, even though FAA rules prohibit commercial drone use at present. But it hasn't stopped there; Google and Facebook also have launched programs to create drone fleets as well. Why? What possible use could they have for drone fleets except collecting intelligence? And it appears these companies know something, otherwise why would major companies spend millions on drone research, if eventually the rules weren't going to be changed to permit them to use those fleets.
If you scan through the articles, below, you'll find one about the Chinese creating laser cannons to shoot down drones without the need for large numbers of military personnel. Why are they so concerned as to develop this weapon? Because drones easily can be used for spying and terror attacks. Now imagine a sky full of drones so that they're common sights, as will occur when commercial drone use is approved. This will make the spying that's a hallmark of the 666 Surveillance System that much more common; for a government bent on spying or creating incidents that can be used to panic people into accepting more limitations on their freedom, those things will be simple.
Aside from that, one of the articles below features a video showing a man being stunned by a drone. Think how easy it will be for authorities to "prompt" those who aren't conforming satisfactorily into behavior changes, without even being in the area. And for those who watch for things like drones as a sign that they're being monitored, how will that be possible when thousands of them appear because of "commerce"? The choice either will be to accept them as normal, or to become incredibly paranoid. I believe they'll become an interim step toward mass compliance, before the final controls of the "hive mind" system that will be a hallmark of the "Mark" of the Beast and the 666 Surveillance System, are fully instituted.
The US already is creating bases just for drone training and deployment throughout the country. This will make the step over the line into the 666 Surveillance System that much closer, since much of that system is based on data gathering for control, and on draconian measures to "protect" the public. The same can be said about the use of chips. Already we're seeing their use expand from protection of potential kidnap victims to medical applications (such as in emergency situations) to privacy and convenience, through the use of chips that make us able to lock computers, phones and credit cards with the wave of a hand. It's only a short distance into continuous tracking and restriction of everyone's ability to function if they don't go along with the program. Add in the latest advances, graphite antennas to relay information, and again, we've just stepped closer.

It's the slippery slope once again. In an interview with the late Aaron Russo (producer of films such as "The Rose" and "Trading Places", who also privately made the film "Freedom to Fascism" – available on YouTube), this friend of Nick Rockefeller (Yes, Rockefeller family) had revealed to him, that the end plan at that time was to chip everyone eventually as a means of control. (The clip below is from a 1+ hour interview with Alex Jones, "Reflections and Warnings", a must-see for anyone interested in where we're heading and how we got here.)
That possibility of universal chipping is looming ahead in the US, due to provisions in the Affordable Care Act (Obamacare) which explicitly call for such measures by 2017. That doesn't mean it necessarily will occur by then, but those plans definitely are in place. While incremental, the steps are coming faster and faster toward the 666 Surveillance/ Beast system. The only hope is in Jesus Christ, and in a church that wakes fast enough to fall on its collective faces in repentance, so that revival can slow the schemes of the elite. It all will occur just as prophecy states, but if we can hold it off for a time, we can open the eyes of more people to what is coming and to our only means of salvation from it – His death on our behalf. Our "great commission" from the Lord demands we do precisely that.

Total Surveillance/ High Technology (Drones)

Exclusive: U.S. Drone Fleet at 'Breaking Point,' Air Force Says 
"Too many missions and too few pilots are threatening the 'readiness and combat capability' of America's unmanned Air Force, according to an internal memo. The U.S. Air Force's fleet of drones is being strained to the "breaking point," according to senior military officials and an internal service memo acquired by The Daily Beast. And it's happening right when the unmanned aircraft are most needed to fight ISIS.

The Air Force has been forced to raid its schools for drone operators to man the operational squadrons that are flying combat missions over places like Iraq and Syria. As a result, training squadrons—called Formal Training Units (FTU)—are being staffed with less than half the people they need. Even the Air Force's elite Weapons School—the service's much more extensive and in-depth version of the Navy's famous Top Gun school—course for drone pilots was suspended in an effort to train new rookie operators.

Overworked drone crews have had their leaves canceled and suffered damage to their careers because they could not attend required professional military education courses. The result is that drone operators are leaving the Air Force in droves. "Pilot production has been decimated to match the steady demand placed upon the RPA community by keeping 'all hands' in the fight," Carlisle wrote.

But it takes more than just pilots to operate the drone fleet. In addition to the pilots who "fly" the MQ-1s and MQ-9s, there are sensor operators who work the cameras and other intelligence-gathering hardware onboard the unmanned aircraft. Further, there are maintenance crews who have to fix those drones. Perhaps most crucially, drones require hundreds of intelligence analysts who have to comb through thousands of hours of video surveillance footage to understand what the flight crews are watching."
Amazon is hiring drone pilots  This at least will provide employment for all of those drone operators rushing to leave the military. Seriously, however, this will be one of the next areas to watch, as Google, Facebook and others have begun their own drone development programs. The FAA has prohibited private commercial drone traffic until this point because of the risk of accidents from having thousands of unmanned drones flying overhead across America. Yet there are greater risks, as the article on Chinese laser canons, below, makes clear. Look for rules to change though, since these companies are spending millions on development.

"Amazon is looking for engineers to help test and develop Prime Air, its drone delivery service. According to the job posting, candidates should have at least five years of experience flying drones. It helps if you can fly actual airplanes. The company lists a pilot's certificate among the "preferred qualifications" for the job. Amazon first announced that it was working on delivering packages via drones last year.

The type of drones proposed by Amazon CEO Jeff Bezos are currently not allowed for private use under federal law. But federal aviation rules are slated to change in 2015 and the company has suggested that it could start testing its "octocopters" — as its drones are called — to deliver small packages."
Going Postal (Official Trailer) | JoyCamp  While this is a humorous look at one possible result of commercial drone traffic in the future, it isn't altogether unreasonable, as the CNN video below on "Shooting down drones from your backyard" will show. If (or when) commercial drone traffic is approved, and there are thousands of drones buzzing us constantly, how will we be able to determine which are carrying packages and which are being used to collect data or spy on us (or worse, strike at us)?
1 Statistic that Proves Americans Are Hopelessly Brainwashed  This shows how readily most people will accept all of the control of the 666 Surveillance/Beast system. They're already succumbed to the programming making its ultimate success possible.
"A recent survey revealed that almost 75% of Americans favor drone strikes against Americans. Specifically, they support drone strikes against Americans who are overseas who have joined terrorist groups.

But think about this for a moment. If Americans support drone strikes against Americans anywhere without due process, why would any American feel safe? It's an easy thing for the government to define any group that they disagree with as "terrorists." Look how preppers and Constitutionalists have been characterized by the mainstream media and nutcase groups like the Southern Poverty Law Center.

Oh, and if that doesn't scare you, then take a look at this jaw-dropping statistic, as noted by PrisonPlanet.com: "Some 47 percent of those surveyed would back drone dstrikes where law-abiding Americans were possible collateral damage." That means that, should you or someone you love be kidnapped by "terrorists" (however the government is defining it that week), then half of Americans would support killing your innocent loved ones if that death was an "oops."

If this doesn't make you want to pack up and disappear, I don't know what will."
Shooting down drones from your backyard  After learning of the NDAA (National Defense Authorization Act) provisions and the government's plan to open 6 new drone training centers around the country, a man in Deer Trail, Colorado proposed a local ordinance authorizing licensed gun owners to shoot down drones. Issues such as this could end up as part of the classic fight between state/local rights and the federal government.
China claims new laser cannon shoots down drones  This CNN article also includes a video showing a drone stun a man, and one on why Google bought a drone company.
"The weapon can zap targets within a radius of 1.2 miles. Its designers at the China Academy of Engineering Physics, a government defense agency, believe the machine can spot a drone and shoot it down just five seconds later.

The government didn't show off any photos. But the Star Wars-like cannon is meant to be placed on the ground — or mounted on a vehicle. As described by Xinhua, the laser is designed to destroy the kinds of miniature drones now widely available on the market for consumers. Why those? Small, unmanned drones are cheap, quiet and easy to launch. They're the perfect weapon for terrorists and spies.

During a recent test, the laser shot down more than 30 drones, hitting every single target, according to Xinhua. The Chinese government's hope is that the system will replace the need for police or military personnel to shoot down threatening drones."
E-Tattoos/ Total Surveillance
While one of these articles links RFID chips with the Mark of the Beast, and while that has been a popular conception, we think the mark will go far beyond chips, although it still will involve wireless transmission. These are all steps toward it though, and as such they are important in order to follow the technological progress toward a wi-fi linked, hive mind system. Despite all of that, chips, and now antennas, still are being "sold" to us for their beneficial uses.

Siemens secret hoard of Human Microchips – USAF contractor William Pawelec  This is a clip of an interesting interview with a US government defense contractor talking about the global elite and their infiltration into affairs and programs (especially black ops) as regards RFID chips. From The Disclosure Project 2012.
Moving towards the mark of the beast: Feds help fund implantable RFID device  (Video in article)
"For years many within the alternative media have written about the danger to freedom posed by implantable RFID chips. From chips implanted into pets to chips used in humans to monitor their health, society has slowly been conditioned to accept implanted microchips as a useful science based tool.

Now, with funding from the National Science Foundation in collaboration with the National Research Foundation in Korea, researchers are attempting to create an implantable antenna for "long-term patient monitoring."

"This project will create a UHF RFID tag antenna that can be inserted under the skin for a permanent application. Ultra High Frequency (UHF) RFID tag antennas are printed using conductive ink and have found increased applications due to advantages such as minimal cost, low maintenance, good tag read range, and ability to operate without an integrated battery."
A chip implanted under the skin allows for precise, real-time medical monitoring  
"A tiny (one-centimeter-square) biosensor chip developed at EPFL is designed to be implanted under your skin to continuously monitor concentrations of pH, temperature, and metabolism-related molecules like glucose, lactate and cholesterol, as well as some drugs.

The chip would replace blood work, which may take  hours — or even days — for analysis and is a limited snapshot of conditions at the moment the blood is drawn.

The electrochemical sensors work with or without enzymes, which means the device can react to a wide range of compounds, and it can do so for several days or even weeks."
Wearable wireless devices: Low cost radio frequency antenna printed with graphene ink
"Scientists have moved graphene — the incredibly strong and conductive single-atom-thick sheet of carbon — a significant step along the path from lab bench novelty to commercially viable material for new electronic applications. Researchers have printed a radio frequency antenna using compressed graphene ink. The antenna performed well enough to make it practical for use in radio-frequency identification (RFID) tags and wireless sensors, the researchers said. Even better, the antenna is flexible, environmentally friendly and could be cheaply mass-produced."
The Mind
How to communicate human emotions to a hand through air
"A University of Sussex-led study has shown that human emotions can be transferred to another person by stimulating different parts of the hand with short blasts of air to convey feelings such as happiness, sadness, excitement, or fear. The "UltraHaptics" system sends air pulses to the area around the thumb, index finger and middle part of the palm to generate excitement; slow, moderate stimulation of the outer palm and the area around the little finger generates sad feelings.

In an idea stimulated by Korg Kaoss pads, the authors suggest how a DJ could use an UltraHaptics system in  a club (the system [currently] functions out to about 2 meters, but multiple speakers could be used) for one-to-many emotion communication:

Scenario: Imagine a high-pitched summer song in a room full of people dancing. Now they raise their hands into the air as DJ Hapster offers them some emotional stimulation in mid-air: it starts at the upper end of the palm, runs along the along the palm, then into the middle of the palm and back to the upper edges creating a predictable loop and a positive feeling of excitement and stability. The DJ is using high frequencies (128 to 256Hz) with high intensity to create emotional arousal. The DJ is creating the haptic stimulus by moving along the thumb and middle part of palm.

Obrist has been awarded £1 million by the European Research Council for a five-year project to expand the research into taste and smell, as well as touch. "Relatively soon, we may be able to realize truly compelling and multi-faceted media experiences, such as 9-dimensional TV, or computer games that evoke emotions through taste," she said."
Conclusion
God has warned in the Bible where this world system is heading. The 666 Surveillance System is now on the fast track. There is no stopping it. Are you going to be with Jesus Christ and eternal life, or are you going to take the "666 Mark" and be eternally damned? The stakes could not be higher: eternal life or eternal damnation. Now is the time to repent of sin and trust Jesus Christ as your Savior.
Make sure that you use The 666 Surveillance System brochure as it is a great witnessing tool. I also offer the Prophecy Packet which includes that 666 brochure. If you would like a copy, please email Dave at: [email protected] and ask for the packet along with giving your name and mailing address. Now is the time to use prophetic information to share the gospel.
The following verses state what the Bible says happens to all who reject salvation through Jesus Christ, and receive the "Mark of the Beast":
Revelation 14:9-11 And the third angel followed them, saying with a loud voice, If any man worship the beast and his image, and receive his mark in his forehead, or in his hand,  The same shall drink of the wine of the wrath of God, which is poured out without mixture into the cup of his indignation; and he shall be tormented with fire and brimstone in the presence of the holy angels, and in the presence of the Lamb:  And the smoke of their torment ascendeth up for ever and ever: and they have no rest day nor night, who worship the beast and his image, and whosoever receiveth the mark of his name.