TomorrowWorld: 666 System Paganism on Steroids (Part 2)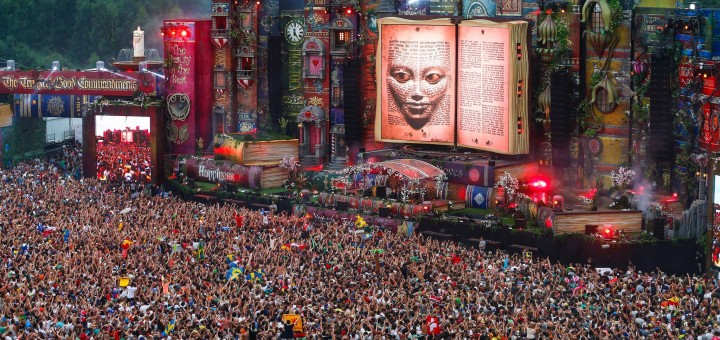 12/02/2015
         The 666 Surveillance System
Revelation 13:16-18 And he causeth all, both small and great, rich and poor, free and bond, to receive a mark in their right hand, or in their foreheads: And that no man might buy or sell, save he that had the mark, or the name of the beast, or the number of his name. Here is wisdom. Let him that hath understanding count the number of the beast: for it is the number of a man; and his number is Six hundred threescore and six (666).
Introduction (Please read this if it is your first time with this section. It continues to a full teaching article.)

There is not a more spine-chilling chapter in the entire Bible than Revelation chapter 13. This chapter describes the rise to power of a demoniacally inspired world dictator, similar in nature to Adolph Hitler. He is called "the Beast", but better known as the Anti-Christ. He uses a world financial system to control the people, as no one can buy or sell unless they are linked by a mark with the number 666 to this system. Thus this mark in the body is known as the "Mark of the Beast." (Continued see: The 666 Surveillance System)

Although the Bible limits the "Mark" to economics, the current rapid advancement of technology shows that it is going beyond economics to a total world-wide surveillance system; thus, the "666 Surveillance System." The Bible states that once a person receives the 666 Mark, he is locked into it and cannot escape. This person is eternally doomed. I believe that part of this system is mind-control. Once a person joins, the mind is seared and cannot escape; thus, the perfect "man/mouse trap".
This blog keeps the reader on the cutting edge technology creating the conditions for fulfilling the "666 Surveillance System". I have identified certain technologies that are needed to bring this system to pass. These technological advancements are reported under headings, so the reader is kept on the cutting edge of developments and can see where it is all heading. These headings include: Cashless Society, The Mind, E-Tattoos/Mark of the Beast, Total Surveillance, and High Technology.
This blog is the complement to the "Image of the Beast" which focuses on man's quest to transform creation, and to become "as gods" by "directing human evolution" using transhumanism.
Remember, that this system is in place immediately prior to the Second Coming of Jesus Christ. It really does appear that His coming is not that far off. Are you ready to meet Him?
Commentary
TommorowWorld is the USA's version of TomorrowLand (see our previous post) which takes place on an 8,000 acre site in Georgia each September. Billed as festivals of EDM or electronic dance music, what makes the biggest impact is pagan symbolism and rituals, combined with rhythmic metal machine music designed to induce a trance state. 160,000 people from 75 nations attended this year's Tomorrowworld.

These festivals fit perfectly with the mind control of the 666 System, as crowds develop almost a hive mind, acting in unison. Below you'll also find a poster advertising activities available in DreamVille, the site for "camping" on the grounds, featuring yoga, meditation, etc. and nightly fireworks.

These are high-tech, luxury festivals which cost an exorbitant amount (Cabana packages are over $1,700 per person, with "Manors" which hold up to 12 beginning at $42,500) )and cater to the fleshly desires of attendees. Instead of tickets there are electronic wrist bands, shipped in locked jewelry boxes with your own personal key and a card which reads, "Unlock Divine Happiness." That was the theme for the 2015 festival, as you'll see below. While tents are for the masses, cabanas even have beds with satin sheets. More upscale packages feature butlers, tour buses, showers and champagne. There also are fine cuisine restaurants and beauty salons on the grounds.
At the prices for these luxuries, it's clear that only elite youth can afford them, yet they're driving the tastes and beliefs of the rest of the generation. This year, however, things didn't go as planned and thousands were stranded sleeping on roadsides in wet grass without food, and uncertain what to do, often because of their drunk/drugged condition.

These festivals are important because they demonstrate the rapid and pervasive rise of paganism, the coming one-world religion spoken of in the Book of Revelation.  What is arising faster than most can imagine through new age teaching is old style paganism mixed with the worship of Lucifer. The religion of the end times and of the Antichrist will be paganism, first begun in Babylon and continuing through the ages. Though in recent centuries it has remained in the shadows, it never has disappeared and today it's enjoying a resurgence beyond anything most could imagine.
Youth are being deceived and pulled into this pagan worship at astounding rates. Pay attention to what is occurring, where your children or grandchildren are going and what they're buying into, in terms of "entertainment" such as electronic dance music (EDM). This is spiritually deadly. Disguised as love and light, they're really about crowning Lucifer.

For entries with videos on similar subjects, see the 666 Surveillance System blog posts:  Mind Programming and The Commercial Trance State  and Binaural Beats: The Machine Music of the 666 Beast System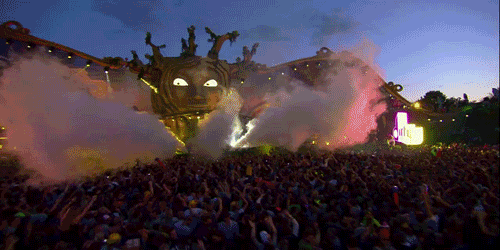 Media/ Mind Control
Exposed: The Sorcery of "TOMORROWORLD" Georgia (R$E)  This short video is very important and please watch it as the narrator explains what is happening in light of the Bible. This is an excellent video to show someone who is interested in these events. 
The agenda is the same, no matter where, no matter when they take place. This video will give you a good idea of what really is going on at these festivals and how it relates to the pagan new age religion of the end times. This one is specific to the US though, and as such has its own flavor. This video in particular focuses on the "negative energy" extraction and the frenzy generated.

TomorrowWorld reveals new stage design with a mystic trailer  There is a trailer for the 2014 festival available on this page for you to watch, along with a number of photos to view. Below we've embedded the 2 minute trailers for both the 2014 and 2015 versions of the festival, so that you can see how they are progressing further into darkness each year.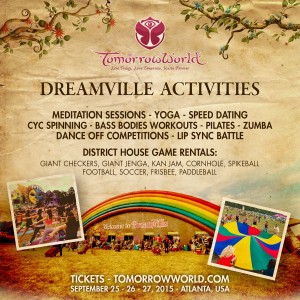 TomorrowWorld Announces 6 New Stage Designs, Adds Floating Boat Stage  Check this page to see ads for activities, restaurants, and other amenities, along with the personal jewelry box enclosing the electronic wrist bands for attendees. It features gears (symbolic of metal machine music) on the lid.
11Alive investigates drug use at TomorrowWorld  A video of the undercover reporting relating to drug use is available on the article page. It is rampant at these festivals and sales take place in the open, with no effort to hide them. Buyers even pull out testing kits before purchase to ensure they're getting pure drugs. It's a large part of the experience.

"We wanted to know what festival organizers had done to control the designer drug Molly, which has been associated with the dance music scene. 11Alive investigative journalists… went to the event, bought two tickets, and took a small camera along. They captured activity right out in the open.

DEA agents say Molly is a purer form of the designer drug ecstasy or MDMA.  The problem is people overdose and many times the drug is cut with other dangerous substances. Shawn Hoder asked one attendee, "Do you find that it's easy to get at a place like here?" "Uh, very easy to get at a place like this. People walking around like hey I got Molly, I got Molly," he says on the undercover tape.

[T]here appeared to be lot of interest in the drug. In fact, someone showed us their drug testing kit [to] make sure what they were getting was pure Molly and not adulterated.

The signs at TomorrowWorld said 'no drugs', bag searches were done and there was supposed to be an amnesty bin at the entrance to drop off contraband, without consequences. "Where are the amnesty bins?" McLaughlin asked of a Dance Safe volunteer. "Oh, uh, yeah that's a great…yeah we were supposed to have them at the entrance,"she said."
Comm. Pitts Congratulates Comm. Edwards on TommorrowWorld at BOC Meeting  Of course, no matter what is occurring at the festivals, local Atlanta commissioners are pleased about them taking place since Tomorrowworld brought $85.1 million into the economy of Georgia, and $70 million directly into the Atlanta, Fulton county, Georgia area in 2013 alone. Lucifer isn't the only god involved; money is just as important to organizers and sponsors.

TomorrowWorld Investigations Underway After Weather, Transport Issues Strand Thousands This article shows the 666 Surveillance System tie-in because no cash was allowed at the event; this ended up causing severe transportation problems as attendees walked miles to reach cabs which only accepted cash.
2015-16 Festival Calendar  If you have any question about how popular these festivals and the new age/pagan atmosphere which accompanies them are becoming, have a glance at these 2015-16 venues. There are 18 pages of listings, to give you an indication.
Conclusion
God has warned in the Bible where this world system is heading. The 666 Surveillance System is now on the fast track. There is no stopping it. Are you going to be with Jesus Christ and eternal life, or are you going to take the "666 Mark" and be eternally damned? The stakes could not be higher: eternal life or eternal damnation. Now is the time to repent of sin and trust Jesus Christ as your Savior.
Make sure that you use The 666 Surveillance System brochure as it is a great witnessing tool. I also offer the Prophecy Packet which includes that 666 brochure. If you would like a copy, please email Dave at: [email protected] and ask for the packet along with giving your name and mailing address. This brochure is now available in Spanish. Now is the time to use prophetic information to share the gospel.
The following verses state what the Bible says happens to all who reject salvation through Jesus Christ, and receive the "Mark of the Beast":
Revelation 14:9-11 And the third angel followed them, saying with a loud voice, If any man worship the beast and his image, and receive his mark in his forehead, or in his hand,  The same shall drink of the wine of the wrath of God, which is poured out without mixture into the cup of his indignation; and he shall be tormented with fire and brimstone in the presence of the holy angels, and in the presence of the Lamb:  And the smoke of their torment ascendeth up for ever and ever: and they have no rest day nor night, who worship the beast and his image, and whosoever receiveth the mark of his name.