Hand Scanner: a step towards Mark of the Beast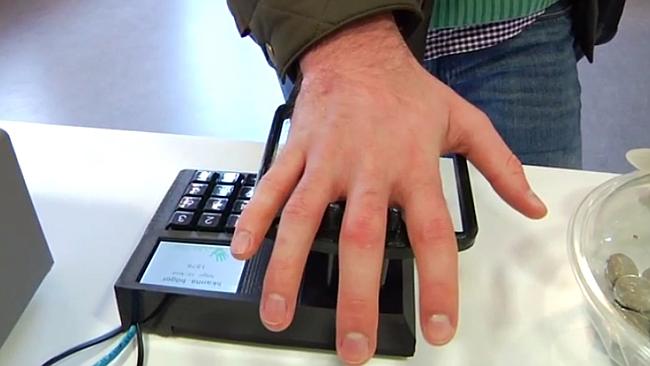 The 666 Surveillance System
Revelation 13:16-18 And he causeth all, both small and great, rich and poor, free and bond, to receive a mark in their right hand, or in their foreheads: And that no man might buy or sell, save he that had the mark, or the name of the beast, or the number of his name. Here is wisdom. Let him that hath understanding count the number of the beast: for it is the number of a man; and his number is Six hundred threescore and six (666).
Introduction (Please read this if it is your first time with this section. It continues to a full teaching article.)

There is not a more spine-chilling chapter in the entire Bible than Revelation chapter 13. This chapter describes the rise to power of a demoniacally inspired world dictator, similar in nature to Adolph Hitler. He is called "the Beast", but better known as the Anti-Christ. He uses a world financial system to control the people, as no one can buy or sell unless they are linked by a mark with a number to this system.
This is found in Revelation 13:16,17 with the number being 666. It seems that everyone knows about the number 666, even those with little knowledge of the Bible, as it is identified as the devil's number! This is probably one of the best known verses in all the Bible.
For centuries, the fulfillment of these verses was a mystery. The mark was believed to be a tattoo. Christians believed by faith that, just prior to the Second Coming of Jesus Christ, a system would be in place where no one could buy or sell without this Mark. However, the understanding of these verses along with the possible fulfillment has really come into focus in the last 25 years. (Continued see: The 666 Surveillance System)
Commentary
The 666 Surveillance System is coming together faster and faster. Please use this coming system as a witnessing tool to win souls to the Lord Jesus. You can also warn them, so when the time comes to take the Mark of the Beast, they can refuse. Time is very short now, so it is now or never. Please obtain my 666 Surveillance System brochure, as it is a great tool for you to use to win souls.
I have never been turned down when handing it to people. People are now aware of what is happening, and they gladly accept the brochure. Please order it now.
E-Tattoos and Mark of the Beast
Shoppers ditch wallets for hand scanners  The use of modern technology has conditioned people to accept this system. There will be little resistance to it as this is a forerunner of the Mark of the Beast. This is all coming together so fast on all fronts!
"The biometrics that you have that's inherent to you is something that you can't drop or lose such as your eyeball or your fingerprint.'' To use unique vein scanning information a person visits a shop or restaurant with the technology and scans their hand three times before registering their personal details. A text message is then sent to their mobile phone with an activation link to a website and payments are then taken from the customer's bank account from then on."
Human microchipping: I've got you under my skin This is really heading to a tattoo system.
"Thousands of technology enthusiasts use it as the ultimate app, enabling them to lock and unlock their homes, cars, computers and mobile phones with a simple wave of a hand. But there's a catch: they must have a microchip inserted into their bodies. The idea may seem weird, and painful, but human microchipping appears to appeal not only to amateurs, who call themselves biohackers, but also to governments, police forces, medical authorities and security companies."
What Will You Do When You Can No Longer Buy Or Sell Without Submitting To Biometric Identification?  Those that resist will be frozen out of the system.
"In some areas of the world, payment systems that require palm scanning or face scanning are already being tested. We have entered an era where biometric security is being hailed as the "solution" to the antiquated security methods of the past. We are being promised that the constant problems that hackers are causing with our credit cards, bank accounts, ATM machines and Internet passwords will all go away once we switch over to biometric identification."
Microchips to administer drugs, replace pills This is part of conditioning people to accept the Mark of the Beast on their body.
"MIT researchers and a company called MicroCHIPS are developing a chip smaller than a square inch in area, which can be preloaded with drugs. It can release drugs into your body in given doses and time intervals, programmed according to "doctor's orders" – while your mind wanders on "more important" things."
Cashless Society
Future of money There is no future for money as technology is heading for a worldwide cashless society, which can easily be controlled by the government.
"And, are you ready to pay with your veins? Schlegel says that a new payment system is already undergoing a test in Sweden. The biometric machine looks at a user's veins to identify them. It's called Quixter. It allows a user to place their hand over a reader that identifies the patron via their unique vein patterns. It is being used by 15 retail stores and dining establishments around Lund University."
The Mind
Erasing Bad Memories: Wiping Out Unconscious Traces Is Possible
"Bad memories are not only part of our conscious mind, they also leave a trace in our unconscious. But now, new research shows that actively trying to forget an unwanted memory can help erase this unconscious trace."
Scientists work on backing up human brain with computers and communicate with electronics by thought
"A new state-of-the-art headband is being developed by Tufts University scientists that could help facilitate communication between the human brain and computers. The new technology – currently being crafted at the university's Human Computer Interaction Lab – would be capable of scanning an individual's brain activity, determining whether the person is mentally aware enough to handle the task at hand, fatigued, or even bored with what they're doing."
High Technology
Police Are Testing a "Live Google Earth" To Watch Crime As It Happens I hope that this brings home to everyone the advancement of the 666 Surveillance System and just how fast this is coming together.
"In Compton last year, police began quietly testing a system that allowed them to do something incredible: Watch every car and person in real time as they ebbed and flowed around the city. Every assault, every purse snatched, every car speeding away was on record—all thanks to an Ohio company that monitors cities from the air. "
Who's watching me? Police took photos of my license plates
IBM Head: Stop Fighting And "Embrace" Total Biometric Surveillance Because It Cannot Be Stopped He is correct that it cannot be stopped, as this system must be in place before the Second Coming of Jesus Christ. What I am doing and we can do, is to warn this is coming and use it to win people to Jesus Christ for salvation.
"A leading IBM official has urged the world to "embrace" ubiquitous surveillance of the public through biometrics, because, he argues, it is too late to fight against it. "…trying to stop this would be fighting the wrong battle." said Peter Waggett, Programme Leader at IBM's Emerging Technology Group "We're fighting the wrong battle when we ask should we stop people being observed. That is not going to be feasible. We need to understand how to use that data better," Waggett added, speaking at a Nesta panel debate on biometrics. "The information is out of the bottle already — we have to deal with the issues surrounding it now. Embrace the challenge of what we've got, embrace understanding it and focus on what we can do with that new data." he argued, urging people to stop worrying about preventing such surveillance from becoming a societal norm."
Virginia cops constantly photograph random people's license plates All of this is being tied into massive data bases for complete control of people's movements.
"The database will also hold fingerprints, of which the FBI has around 100 million records, as well as retina scans and palm prints. Profiles on the system will contain other personal details such as name, address, age and race.  The system will be capable of searching through millions of facial records obtained not only via mugshots, but also via so called "civil images", the origin of which is vague at best. "[T]he FBI does not define either the 'Special Population Cognizant' database or the 'new repositories' category." The EFF writes. "This is a problem because we do not know what rules govern these categories, where the data comes from, how the images are gathered, who has access to them, and whose privacy is impacted."
Creepy autonomous AI CCTV surveillance network watches all of Boston This is what is coming both for America and worldwide. This is total 666 Surveillance.
"Following the Boston Marathon bombings almost one year ago, the Boston Police Department started looking toward more high-tech means of securing the city against future attacks. They found the solution in the form of an artificially intelligent, self-learning surveillance network that now watches the entire city, and all of its inhabitants."
Conclusion

God has warned in the Bible where this system is heading. The 666 Surveillance System is now on the fast track. There is no stopping it. Are you going to be with Jesus Christ and eternal life, or are you going to take the "666 Mark" and be eternally damned? The stakes could not be higher: eternal life or eternal damnation. Now is the time to repent of sin and trust Jesus Christ as your Savior.
Make sure that you use The 666 Surveillance System brochure as it is a great witnessing tool. I also offer the Prophecy Packet which includes that 666 brochure. If you would like a copy, please email Dave at:
[email protected] and ask for the packet along with giving your name and mailing address. Now is the time to use prophetic information to share the gospel.
The following verses state what the Bible says happens to all who reject salvation through Jesus Christ, and receive the "Mark of the Beast":
Revelation 14:9-11 And the third angel followed them, saying with a loud voice, If any man worship the beast and his image, and receive his mark in his forehead, or in his hand,

 The same shall drink of the wine of the wrath of God, which is poured out without mixture into the cup of his indignation; and he shall be tormented with fire and brimstone in the presence of the holy angels, and in the presence of the Lamb:

 And the smoke of their torment ascendeth up for ever and ever: and they have no rest day nor night, who worship the beast and his image, and whosoever receiveth the mark of his name.