Scientists reveal implantable battery that can charge from the movement of our organs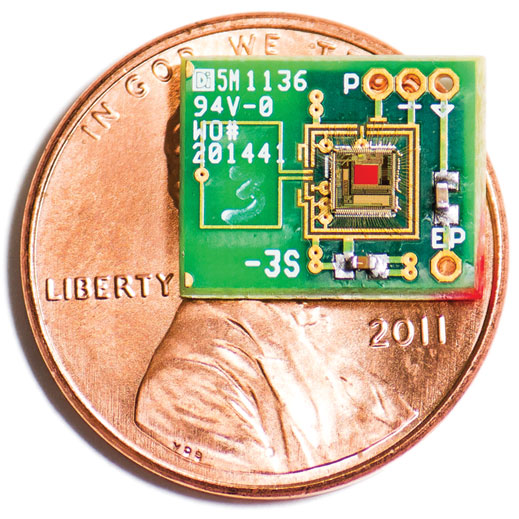 The 666 Surveillance System
Revelation 13:16-18 And he causeth all, both small and great, rich and poor, free and bond, to receive a mark in their right hand, or in their foreheads: And that no man might buy or sell, save he that had the mark, or the name of the beast, or the number of his name. Here is wisdom. Let him that hath understanding count the number of the beast: for it is the number of a man; and his number is Six hundred threescore and six (666).
Introduction

(Please read this if it is your first time with this section. It continues to a full teaching article.) 
There is not a more spine-chilling chapter in the entire Bible than Revelation chapter 13. This chapter describes the rise to power of a demoniacally inspired world dictator, similar in nature to Adolph Hitler. He is called "the Beast", but better known as the Anti-Christ. He uses a world financial system to control the people, as no one can buy or sell unless they are linked by a mark with a number to this system.
This is found in Revelation 13:16,17 with the number being 666. It seems that everyone knows about the number 666, even those with little knowledge of the Bible, as it is identified as the devil's number! This is probably one of the best known verses in all the Bible.
For centuries, the fulfillment of these verses was a mystery. The mark was believed to be a tattoo. Christians believed by faith that, just prior to the Second Coming of Jesus Christ, a system would be in place where no one could buy or sell without this Mark. However, the understanding of these verses along with the possible fulfillment has really come into focus in the last 25 years. (Continued see: The 666 Surveillance System)
Commentary
There is so much happening that I want to get this information right out to you.
Every facet of the 666 Surveillance System is now on overdrive. It is all coming together so fast. Everyday now there are breakthroughs that are accelerating the completion of the 666 Surveillance System.
It is very easy now to follow the dots where this is heading. The high-tech is a trap to ensnare people so that there is no way out of complete government control. This evil system is now out in the open for ALL to see. 
Remember, a system like this will be in place just prior to the Second Coming of Jesus Christ.
E-Tattoos/Mark of the Beast
Scientists reveal implantable battery that can charge from the movement of our organs Something like this is needed to power the Mark of the Beast on the body.
Has the age of biometrics arrived? Yes, it sure has. This will morph into identifying the Mark.
Cashless Society/666 System
We Are Sleepwalking Towards A Cashless Society There is no way to stop. The days of cash are numbered. There can be no cash under the 666 System.
The Mind
New Drug Could Potentially Treat PTSD All of this is dangerous as it can alter the thought process and lock the mind into a thought process with no way out.
"By inhibiting HDAC2 activity, we can drive dramatic structural changes in the brain. What happens is the brain becomes more plastic, more capable of forming very strong new memories that will override the old fearful memories," explained senior author, Li-Huei Tsai, the director of MIT's Picower Institute for Learning and Memory. The researchers also found that older memories are harder to extinguish. They concluded that time could play a huge factor in determining the effectiveness of the drug in treating PTSD."
New brain-scanning technique shows when and where the brain processes visual information
"Every time you open your eyes, visual information flows into your brain, which interprets what you're seeing. Now, for the first time, MIT neuroscientists have noninvasively mapped this flow of information in the human brain with unique accuracy, using a novel brain-scanning technique."
Unlocking the Brain's Secrets Using Sound
"When applied to neurons, ultrasonic waves can change how the neurons generate and transmit electrical signals. "Ultrasound is known to do all kinds of things in cells," says Prof. Kimmel, "but how it works in many cases isn't clear, particularly when it comes to neural stimulation."
Ultrasound directed to the human brain can boost spatial resolution
"Virginia Tech Carilion Research Institute scientists have found that ultrasound directed to a specific region of the brain can boost performance in sensory discrimination. The study provides the first demonstration that low-intensity, transcranial-focused ultrasound (tFUS) can modulate human brain activity to enhance perception.
WIRELESS BRAIN IMPLANT AIMS TO GIVE PARALYZED POWER OVER THEIR LIMBS
"BrainGate is developing a system in which a patient's mental signal to move an arm is recorded, filtered through a computer and sent as a command to an electric stimulation device that activates the patient's muscles."
High Technology Articles
The cop of the future: Will crooks have a chance against smart bullets, crowd-stun cannons and eyes everywhere?
"The emergence of new technologies will have significant impact on how front-line police services are delivered in the years ahead and how police officers will look and perform their duties in the future," Ger Daly, global managing director of Accenture Defense and Public Safety, told FoxNews.com. "All forces endeavor to provide high levels of situational awareness to front-line officers, and technology is a key enabler of this."
NYC cops to keep close eye on Super Bowl fans
The Many Ways That You're Being Tracked, Catalogued and Controlled
 "A security camera] doesn't respond to complaint, threats, or insults. Instead, it just watches you in a forbidding manner. Today, the surveillance state is so deeply enmeshed in our data devices that we don't even scream back because technology companies have convinced us that we need to be connected to them to be happy."
Conclusion

God has warned in the Bible where this system is heading. The 666 Surveillance System is now on the fast track. There is no stopping it. Are you going to be with Jesus Christ and eternal life, or are you going to take the "666 Mark" and be eternally damned? The stakes could not be higher: eternal life or eternal damnation. Now is the time to repent of sin and trust Jesus Christ as your Savior.
Make sure that you use The 666 Surveillance System brochure as it is a great witnessing tool. I also offer the Prophecy Packet which includes that 666 brochure. If you would like a copy, please email Dave at:
[email protected] and ask for the packet along with giving your name and mailing address. Now is the time to use prophetic information to share the gospel.
The following verses state what the Bible says happens to all who reject salvation through Jesus Christ, and receive the "Mark of the Beast":
Revelation 14:9-11 And the third angel followed them, saying with a loud voice, If any man worship the beast and his image, and receive his mark in his forehead, or in his hand,

 The same shall drink of the wine of the wrath of God, which is poured out without mixture into the cup of his indignation; and he shall be tormented with fire and brimstone in the presence of the holy angels, and in the presence of the Lamb:

 And the smoke of their torment ascendeth up for ever and ever: and they have no rest day nor night, who worship the beast and his image, and whosoever receiveth the mark of his name.